Who was Jesus Christ and what is Christianity?
As Christians we believe that Jesus is the Son of God. In the New Testament  we read:
"Jesus died for our sins, was buried, was resurrected and thereby offered salvation to all who will receive Him in faith." — 1 Corinthians 15:1-4
Historically, Jesus of Nazareth was a carpenter and teacher who lived in Galilee during the first century. His teachings are the core foundation of Christianity.
Christianity was derived from Judaism and the Hebrew Old Testament writings. Although Jesus did not teach anything radically different from the Old Testament, He simplified the main points so that people could not escape into a pure exercise of religious ceremonies.
Where do I start?
1 In the beginning was the Word, and the Word was with God, and the Word was God. 2 He was in the beginning with God. 3 All things were made through Him, and without Him nothing was made that was made. 4 In Him was life, and the life was the light of men. 5 And the light shines in the darkness, and the darkness did not comprehend it. — The Gospel of John
The best place to start is with the Bible. Most Christians recommend reading the "Gospel of John" first. Then you can read on through the rest of the New Testament. However, here is a recommended reading list:
The Gospel of John
The Gospel of Mark
I John
II John
III John
Genesis
Ephesians
Galatians
The Gospel of Luke
The Gospel of Matthew
I Corinthians
II Corinthians
Romans
Psalms
Proverbs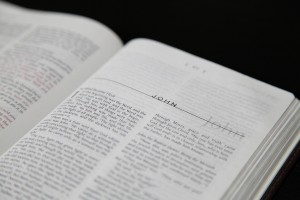 The Bible is the core foundation of the Christian faith. It is separated into 2 parts, The Old Testament and The New Testament. If you do not have a Bible, you can always find one at a local book store, a local church, download a Bible app or read it online.
Whilst we put no Bible translation ahead of another, the New King James version (NKJ) or the New International Version (NIV 1984 edition) is a good place to start.
What do I do next?
The next thing you would want to do is seek other liked minded Christians. Find local community leaders, pastors, prayer groups or mentors/teachers who can help guide you.
For this reason we invite you to come to our church. Listen to us worship the Lord and listen to the prayers we pray and to also listen to the sermon to help give us guidance. If you like it, then come back, and keep coming back.
How do I join Christianity to become a Christian?
Joining Christianity is an interesting phrase because it indicates a kind of membership, a club of sorts. Jesus's offer is open to everyone as his death purchased our lives and his sacrifice made us clean in the sight of God.
To become a Christian, all you need to do is accept Jesus in your heart, not just in your mind. To ask forgiveness for your sins and that you regret and are sorry for the sins you have committed (repentance). Recognise that there is a part of you that will struggle with the concept of unconditional love, recognise that we have all done wrong in the eyes of God, even if we cannot see it ourselves.
It sounds easy, yet for some it can be an incredibly difficult yet life changing experience. Once you have accepted God, seek out other people from the church, including the Pastor, and celebrate your acceptance of Christ. They will be able to guide you further in your new life as a Christian.